Dedicated to Excellence in Coral Springs and Beyond
Rock'N Tiara Kids Spa & Party Boutique is proud to be a leading spa destination not only in Coral Springs but also attracting visitors from beyond. Our commitment to excellence and creating unforgettable experiences has garnered recognition, making us a sought-after choice for parents looking to give their little princesses a day of pure magic and a night of pampering.
Located in the heart of Coral Springs, Rock'N Tiara is a premier destination for unforgettable spa experiences for young girls. With a perfect blend of magic, pampering, and fun, Rock'N Tiara has become the go-to place for kids creating special memories and celebrating those cherished moments.
An Enchanting Oasis for Young Girls
Step into Rock'N Tiara, and you'll instantly be transported to an enchanting oasis designed exclusively for young girls. From the moment you enter, the vibrant colors, whimsical decorations, and friendly smiles of our staff will make you feel like you've entered a fairy tale world. Our mission is to provide children with a safe and welcoming space where every girl can be her unique, beautiful self.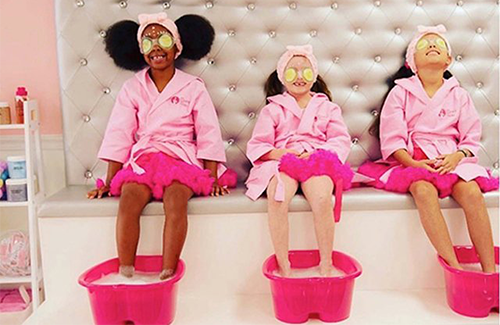 Spa Parties Fit for a Princess
Rock'N Tiara's specializes in creating unforgettable spa parties fit for princesses. Whether it's a birthday celebration, a special occasion, or simply a relaxing day of pampering with friends, our spa parties are tailored to provide the ultimate experience. With a range of party packages to choose from, including the Glitz, Glitter, Glam package and the Sweet N' Fancy Tea Party package, we ensure that each celebration is unique, magical, and tailored to the desires of the birthday girl.
A Magical Experience Awaits
Every detail at Rock'N Tiara's event is carefully designed to create a magical experience for our young guests. Upon arrival, your little princess and her friends will be greeted by our friendly party assistants and glam squad. They will have access to a private room adorned with themed decorations, printable invitations, and a dress-up wardrobe filled with glamorous outfits and props. The excitement builds as they strut their stuff on the runway stage, showcasing their fabulous transformations.
Pampering Fit for Royalty
The pampering experience at Rock'N Tiara's is nothing short of extraordinary. Our spa services are designed to make each young girl feel like royalty. From mini facials and manicures to glamorous makeovers and hairstyling, our professional and talented staff will ensure that your princess is pampered from head to toe. We use high-quality products that are safe and age-appropriate, ensuring a delightful and enjoyable experience.
Creating Lasting Memories
At Rock'N Tiara's, we believe that every moment counts. That's why we go above and beyond to create lasting memories for our young guests and their families. Capture the joy and excitement of the spa day luxe, with our photo booth, where princesses can strike a pose and take home a special memento of their spa party. The smiles, laughter, and sense of wonder that fill our spa are priceless reminders of the magical experiences shared within our walls.
Making Dreams Come True
Rock'N Tiara is a place where dreams come true. We understand the importance of creating a space where young girls can express themselves, build confidence, and embrace their inner princesses. Our team is dedicated to providing exceptional service, ensuring that every little girl feels special, loved, and celebrated. From customized party packages to personalized attention, we aim to exceed expectations and create unforgettable moments that will be treasured for a lifetime.
Beyond Luxury Spa Parties: Expanding the Rock'N Tiara's Experience
While our amazing spa parties are at the heart of what we do, Rock'N Tiara is continually evolving to provide even more magical experiences. We have introduced special events and workshops that focus on building self-confidence, promoting positive body image, and fostering creativity in young girls. From self-esteem workshops to princess etiquette classes, we are dedicated to empowering the next generation of strong, confident, and compassionate women.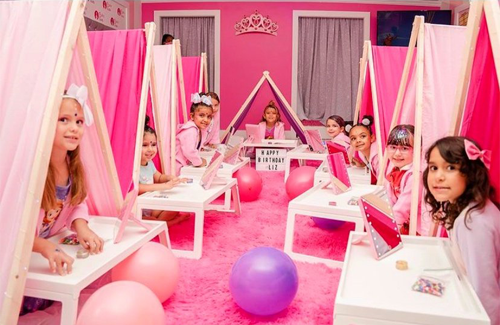 A Welcoming Space for All
Rock'N Tiara's embraces and celebrates diversity. We believe that every young girl, regardless of her family background or identity, deserves to feel special and included. Our spa parties and events are designed to be inclusive and cater to the unique needs and preferences of all our guests. We are committed to creating an environment where every princess feels welcome, valued, and celebrated.
Embrace the Magic at Rock'N Tiara's
Rock'N Tiara invites you to embrace the magic and embark on an unforgettable spa journey. Whether you're looking to celebrate a birthday, a special occasion, or simply want to give your little princess a day of pampering, our Coral Springs location offers nothing but fun, fun, fun! Discover why we stand out from competitors like Little Princess Spa and Luxe Gather. Join us at Rock'N Tiara and let us create a memorable spa experience, that will leave your princess and her friends beaming with joy. Book your spa party today and unlock a world of magic, pampering, and cherished memories.